Poetry of famous spoken word artists from way back when. Learn the thought process of Marcus Garvey as a poet or dancehall DJ.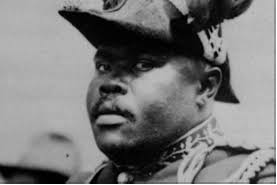 I just came across this spoken word poetry by one of the most famous men of all times and I just couldn't keep it to myself.  
It was published under the heading:
A Black Man's Speech to A White Man in America. And is ascribed to African civil rights leader Marcus Garvey. Hope you may enjoy this as much as I do.
Note; I lay no claim to the ownership of this;
Sponsored By: 76, Clancy's journey "the revised version 2017"

Here now is the poem as I found and read it:
The Poet, in today's world Marcus Garvey's cadence and style would have been likened to a Rapper or Jamaican Deejay:
A Black Man's Speech to A White Man in America.
 I'm not as educated, sir, as thee,
But God Almighty's sun I see,
And you may treat me very hard l'or this,
But I His Holy Hand shall kiss.
I have no nation, none as great as yours
That kills and grabs beyond the stiores;
I have no selfish laws to keep men down
And then upon them ever frown.
You have the wealth of land and sea and sky,
You boast as if you'd never die:
How great you are, my mighty earthly king,
So great that I must tribute bring!
But, sir, one day you'll surely be in Ilell,
And then a story I will tell;
As Dives asked for quenching water then,
So will you all from that hot peti.
Your gilded pride is much in this your day
It's time for you to gather bay
And so you feed upon my sorry life,
And rob me of my home and wife.
My lands you say are yours, and minerals too,
How sweet it is, dear sir, to you!
You kick me down and lash me on my back,
And when I cry there's one more whack.
But one good day will surely come for me,
When God of men will speak to thee,
And then the awful thunder clap will tell,
How far down you will be in Hell.
1935
Happy reading.
Here Are Some best selling products you might like