Life Poems-find a short Poem about life here, from the poet E Lloyd Kelly to every lover of poetry.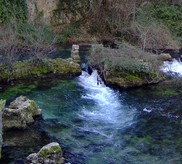 This is a Poem about life in Jamaica, and St. Mary's parish in particular.
Today I'm sending out some reflective vibes in the form of this life poem to remind us all to take a moment every now and then to try to acknowledge and appreciate the small things round about us. In the long run we might realize that these are the things that really matter.
Find books by this Author; Here
So this short poem about life is a little reflective melancholy set around a beloved watering spot in my hometown in St. Mary Jamaica W I. and is dedicated to all lover of the simple way of life.
Here are the words to this piece call; Sweet waters of Silver Spring. You may read along as you watch the video. Enjoy
Sweet water of Silver Spring
Sweet water of Silver Spring, oh what soft soothing pleasures you bring
To my eyes my ears my thirsty lips
My tongue so long to taste your flowing delight.
While skins touches your smooth cascades beneath the soft shadows of night.
Your slender Arms hugs the neck of Athlone way over on the left,
Whilst George Town's high hills caresses your breast
Yet your cool clear waters bubbles and constantly your waters flow.
Where do you come from they asked, and where do you hasten to go
No one has ever answer, nobody seems to know.
Young ladies fair washing their hair, bending beneath your crystal flow
Shadowed curtains around them drawn, be it at nightfall or at early dawn
Chattering women washing their load.
On rocks smooth surfaces by the side of the road.
Valiant young men awaits their turn.
Sits on the culvert's edge as they discover and as they learn.
Just one short leg away from hip to toe.
You burst up from the ground and hurries to go
By lush green trees while bending low.
They salutes and bows in reverent show
Sumptuous, refreshing, sugary Sweet water of my unassuming Silver Spring
You winds your way over rocks and river Moss all live long day
Until you pours out of your glad waters, into the anxious jaws of Rio Sambre.
                E. L. Kelly. Feb 2016