This just in; my new book Some sh..y vacations has just gotten some raving reviews: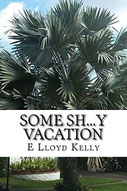 This just in; my book Some sh..y vacations has just gotten some raving reviews:
Got a Raving book review on Friday, after I sold one copy each of my newly published books; "76" Clancy's journey and Some Sh..y vacation on Thursday, I happens to run into that individual on Friday and of course the reviews were coming in. the surprise though was in the glowing review I got, didn't expect it to be that good but am certainly glad that it was. Of the two books, Some Sh..y Vacation is the shorter; it's designed that way.
Some Sh..y Vacation is a Crime fiction novel of 7 chapters, Which tells the story of Lance the underworld enforcer/hitman. Lance is on his R&R vacation when he inadvertently ran into a fugitive from mob justice and then everything changed. This is a short read designed to be a space-filler time-killer. So naturally my client's first pick was the quick read. A day later she came bearing tidings; not only did she read it all in (almost) one sitting, but she'd lent it to a friend who is now into it and from the get go both of them came up with the same conclusion; the story sounds so very familiar it's like they have heard/read it before. 
Furthermore, they thinks they know who the hitman is and guess who? Well, Guess. 
So What's My Response?
my response was; I'm glad to hear it all but please don't go calling up the cops. You too can read Lance's story here. By now I think they're into book # 2; 76. Clancy's journey, happy reading you brave souls. Now this story is; a full length Novel, 15,200+ words, 14 chapters, 76, Clancy's journey is a fictional story (based on some real-life events) of a talented young Jamaican man who; in his senior high school years, gave up a promising football (soccer) career to chase a long-time dream of becoming a world-class entertainer like his idol Bob Marley who had just died and left him as well as the entire Island in mourning… but not for long.