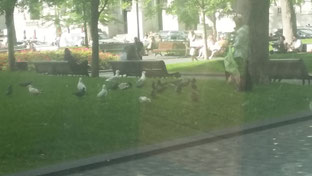 A haughty welcome to each and everyone of you to this my new website. It is my intention to bring you fresh, original and some personal contents from the perspectives of my creative works, my on-the-job experiences and sometimes, just your everyday run-of-the-mill stuffs. we'll try to keep it lite and airy but we won't shy away from a few of the serious and the heavy. welcome inside and I hope you'll like it here. Now let's talk about it
my first day back. 
The first day back for many
This is the first day back at work for the new school year 2016-17 for many including myself, I'm back after a long and restful summer break, I was a bit rusty at the start of the day but once I get going everything falls right back into place.  However, going back to work is not the only first for me today as you can see, it also marks the first post from this my new website. Yea, yea I hear you; three cheers for the launch of this blog call works of the poet. Oh yes, I know, only the well discerning among us will spot the differences right away and some may be wondering why, fair enough and someday soon we'll explain it but for now let's just celebrate this new site, go ahead, take a look you just might like what you see; and if you do, please let us  know and share with a friend. Thank you
So let me just say a haughty welcome back again to all of you whose endeavors revolve around the education sector and let's wish for all the very best for the current year and thereafter. Back to school means different things to different people depending on where one may fall in the system, if you are a student, you might want to pull up the blanket back over your head when the alarm clock sound this morning but also knew that sleep won't come again as long as mams or papa is there prompting you to get up and get going. Some teachers/educators might feel the same way for a brief moment too but for the most part, they are the get-up-and-go-get-it-done type so they "just do it". Don't forget the bus drivers, they (we) too has a very important job to do and we take it very seriously. It is our job to get the students there come rain or sunshine (or snow). That's what we do and we do it well thank you very much. Again I say welcome to the new school year 2016-17, let's all work to make this a very successful year and please have a little (or a lot of) fun along the way. Thanks for your time and interest in what we do and say.